Chris Williams makes more than a dozen wines from pinot noir vineyards in and around Eola-Amity Hills in the Willamette Valley of Oregon.
Not one tastes like the pinot noir released last week, made by Brooks Winery specifically for Graft on Madison's Capitol Square. The grapes came from some of the same vineyards, but the end result was very different.
"None of the wines I make taste like this wine," said Williams, who took over as winemaker at Brooks in 2004 after founder Jimi Brooks' death. "It shows more tannin. It shows more weight … it's a bigger wine."
The 2016 Homage, blended in June by Graft owner Lucas Henning, is the second pinot created specifically for the downtown restaurant. It's available by the glass for $15 and by the bottle for $60.
The Homage is a cousin to those private labels, though with a bit more intervention.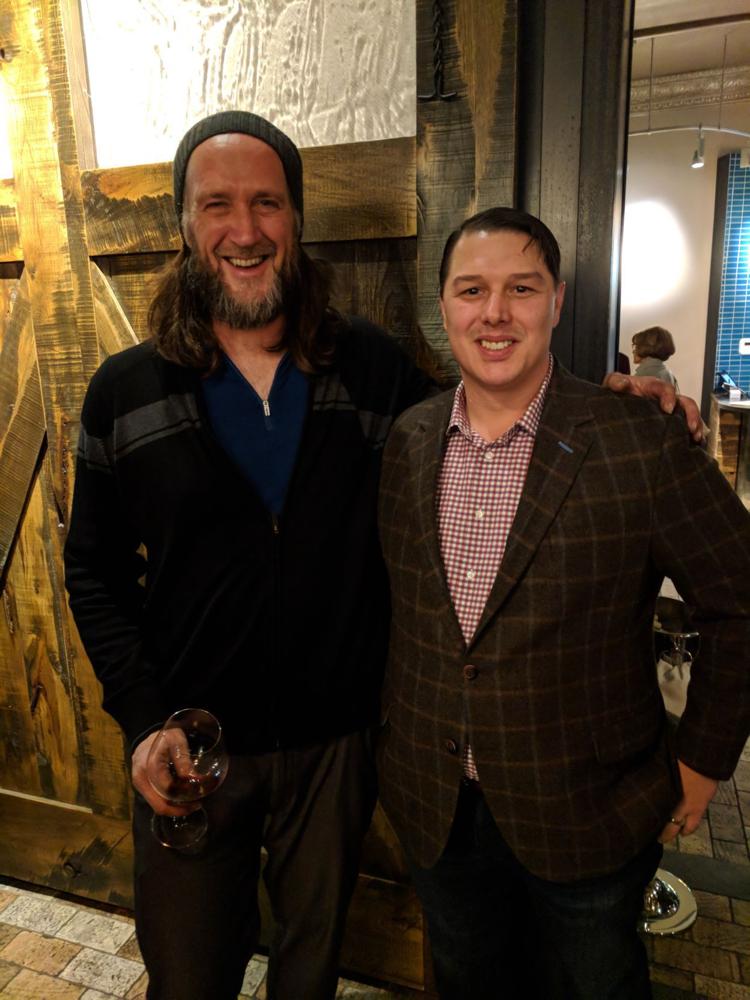 Chris Williams, left, is the winemaker at Brooks Winery. Lucas Henning is a co-owner of Graft who has now blended two pinot noir wines at Brooks specifically for his restaurant.
Henning, who trained with the Court of Master Sommeliers and owns Graft with his wife Erin Bemis, first joined five fellow wine experts from around the country in May 2016 for what one publication called a "sommelier blending experience."
Each somm was given a quick primer on technique and several dozen barrel samples categorized by grape clone (like Wädenswil, 115 and 667) and vineyard location.
They had a lot to choose from. In addition to growing estate fruit, Brooks buys grapes from other Willamette Valley AVAs. The range of flavor components was significant.  
 "When I'm giving them eight lots of well-made wine, it's hard to make a bad blend," Williams said. "You may perceive one of those blends to be better than the others, but that's your perception."
By the time the somms started blending, Williams had already made dozens of choices on their behalf. Some pinot noir wine is made by crushing grapes with their stems, called "whole cluster" fermentation. Williams doesn't do this.
 Williams said he uses a cold soak for the grapes and ferments his reds at lower than 70 degrees Fahrenheit. For aging, most of the oak was neutral, previously-used barrels which tend to add less intense flavors.
"An extended fermentation builds structure in a wine, rather than heating it up and trying to extract it out," Williams said. "We're giving (the somms) a little out of all the barrels."
Some of the sommeliers went "real minimal" with their blends, Williams said. Others "wanted to use everything." He advised them to choose three or four wines to blend, using one as the base and adding a few more for added character.
"The plots are dramatically different," Williams said. When he makes the Janus blend, Brooks' flagship pinot noir, "different parts of the estate are the main structure of the wine. Then I start looking for ways to add more earthiness, mushroom, forest floor."
"I like blending that way. Come up with the wine you like and throw a couple things at it to add more layers."
Henning said that despite their training, blending could be intimidating for the sommeliers. Some represented Lettuce Entertain You restaurants in Chicago and The Jefferson Hotel in Washington, D.C., among others.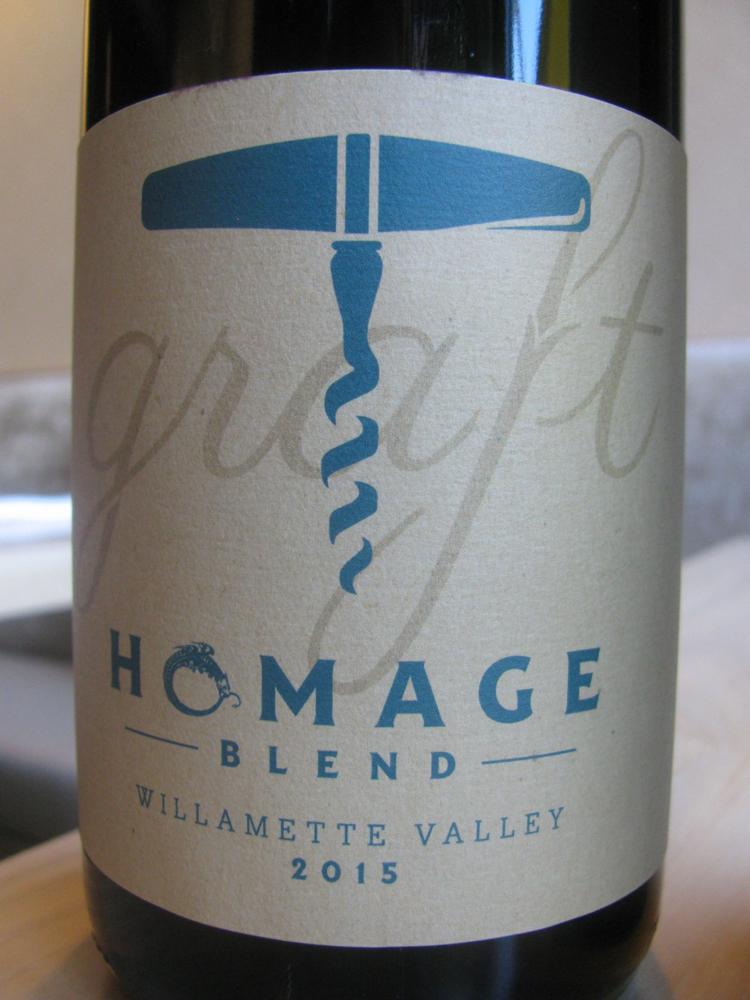 The 2015 Homage pinot noir blended by Graft owner Lucas Henning was more plush and fruit forward. Henning has held back several cases of the wine to see how it ages.
"Last year I was concerned with my own ability," Henning said. "Pinot's pretty finicky, and I didn't know what the Madison market would want. I made a softer, plusher, fruit-forward style for Oregon, which is kind of an atypical Oregon wine."
Henning made 50 cases of that first wine, the 2015 Homage from Willamette Valley. For the 2016 vintage — also a fairly warm year, Williams said — Graft more than doubled its order to 114 cases. Square Wine Company plans to carry it retail.
For the second vintage, Henning blended with an eye toward more savory qualities in the wine.
"This year, I wanted to showcase more the varietal," Henning said. "I wanted more earthy notes to come through, mushroom notes.
"More importantly, I wanted more tannic structure," he added, referring to the astringent elements that come from seeds, stems and oak and give the finished wine structure. "I wanted it to not be as soft. It's happier with food."
Henning has had a relationship with Brooks for years, ever since he chose a 2006 Brooks riesling for President Obama's first state dinner in November 2009. At the time, Henning was working for chef Marcus Samuelsson at C-House in Chicago.
"There are five restaurants from around the country currently making wine" at Brooks, Henning said. "We all go out together. It's a blast to spend a couple days putting blends together with a like-minded individuals.
"We drink a small amount of wine in order to make this wine," he joked.
Given the pronounced tannins, the 2016 Homage should age well, something Henning plans to find out. He also kept back four cases of the 2015 Homage for future tasting.   
"We are slowly building our library so we can get some older vintages of our own wine," Henning said. "Having a wine like this shows that we're invested in the process, that we care about what we do.
"We wanted to do on the wine side what we do with the food and cocktails."